Leitz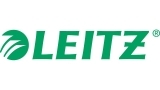 Leitz is the leading premium brand for the office and beyond, breaking boundaries in quality, design and performance. Being the maker of the long-iconic Lever Arch File, Leitz looks back on a long heritage of German quality and engineering.
In 1896, German inventor Louis Leitz sought a way to organize his papers. From this simple need, the Lever Arch File was born. Today the Leitz brand does more than just organize papers. With products ranging from traditional to technological, including the award-winning iLAM laminator, Leitz Complete professional accessories for mobile devices, and traditional paper pads, all Leitz products are meticulously engineered to perform time after time to the highest level.
Renowned industry-wide as an innovative brand, Leitz is leading the transition to the future of work. Technology changes, but principles don't: a job today is still worth doing well. Leitz – Job Well Done.